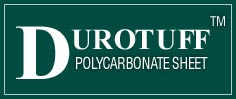 Print Page

Email Page to a Friend
Most of the products of polycarbonate sheet available in the domestic market under different brands & trade names are duly procured/imported from China.
Green House & Garden House
Commercial, Residential & Other Construction
Industrial Construction
Public Infrastructure
Do-It-Yourself (D.I.Y)

Turbo Ventilator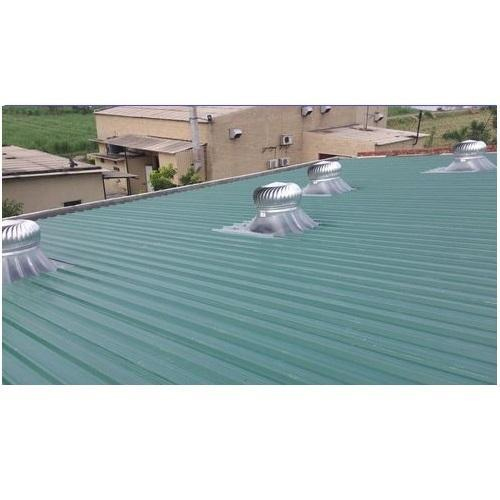 Ask for Price
DUROTUFFTM
The turbo ventilators are used in different industrial and commercial areas for their general smart ventilation features and attributes. For their efficient working, offered range is extensively demanded in the market amongst our customers. Offered ventilations systems are assured on diverse parameters of quality and as a result of which more and more customers move to use for their ventilation confined needs.
Aluminum SS Turbo Ventilator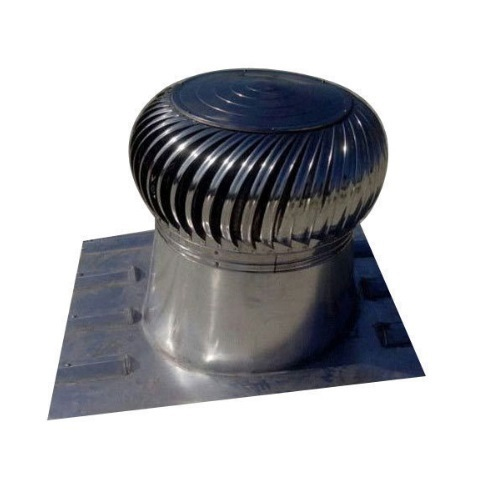 Ask for Price
DUROTUFFTM
For making the requirements of our customers fulfilled sufficiently, we are working in industry with some aspiration and thus we have Aluminum/SS turbo ventilator in our product catalog. Designed ergonomically with the use of best grade stainless steel or aluminum, offered range ensures long working life with noiseless working. With the relatively negligible use of power on operation, it is now the most efficient product in its segment. It is light in weight and can rotate with or without air. Quick cooling and complete ventilation can be availed through the installation of this Aluminum/SS turbo ventilator. Sturdy fabrication of aluminum is done and designed so as to make it adjustable on roofs with different angles.
DUROTUFFTM
Features:
No electricity required for operation only natural wind
Easy to install on any type of shed corrugation
Light in weight
Venturi type dome helps in reduction of lighting load
No noise
Maintenance free
Dynamically balanced for friction less rotation at lowest wind velocity
Wind, rain and storm proof (up tp 100 km/hr wind velocity)
Specifications
DESCRIPTION
SIZE & GRADE (Aluminum)
SIZE & GRADE (SS)
OTHER DETAILS
Neck/Throat Dia Turbine Dia
Height
Net Weight
24" 685 mm 360 mm 4 kgs (approx)
24" 685 mm 360 mm 5.25 kgs (approx)
Light weight to ensure rotation at lowest win velocity.
Top Cover (Dish)

Dia
Thickness
SS-430
380mm
0.50mm
SS-430
380mm
0.50 mm
Fins / Vanes
Nos. of Fins Thickness
Aluminum Alloy Temper H3 Hindalco/Balco
38 Nos.
0.5 mm
SS-430
Jindal / Imported
38 Nos.
0.30 mm
(No Rerolled Material) 38 Airfoil profiled Blades to deflect water and Dust.
Outer Ring
Thickness
Inner strips
Thickness
Width
Aluminum Alloy
1.0mm
SS 202
1.2mm
20.0mm
SS-430
0.50mm
SS-202
1.20mm
20.0mm
Hindalco/Balco Make (No Rerolled Material) Spider type frame design to withstand Cyclone & Twisters
Neck Ring
Inner Dia
Width
Thickness
Inner Arm
Width
Thickness
SS-430
24"
95mm
0.50mm
SS 202
25.0mm
2.0mm
SS-430
24"
95mm
0.50 mm
SS 202
25.0mm
2.0mm
Mounting ring with 2 nos of 4.0mm deep ribs for extra Strength
Drive Mechanism Shaft
Dia

Bush
Bearing Cover (Housing)
Dia
Thickness
Bearing
Quantity
Make "HCH" (5 yr. warranty)
SS 202
12.0mm

SS316
Aluminum Alloys 80.0mm
1.2mm

6001 2Z
2 Nos.
Self Lubricating
SS 202
12.0mm

SS 316
Aluminum Alloys 80.0mm
1.2mm

6001 2Z
2 Nos.
Self Lubricating
Shaft machined central less Grinder for precise quality Bush made on CNC Lathe for precise quality Ensures friction rotation even at lowest wind velocity.
Rivets
Aluminum
Aluminum
Packing Box
Ply

For Corner Support
Ply
Weight
Corrugated
5 ply

Corrugated Sheet fold in Triangle 5 ply 3.0Kgs. (Approx)
Corrugated
5 ply

Corrugated Sheet fold in Triangle 5 ply
3.0Kgs. (Approx)
Seaworthy Carton
SS PP Turbo Ventilator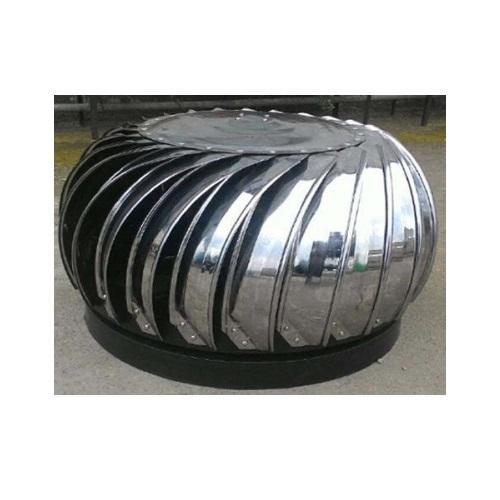 Ask for Price
DUROTUFFTM
With the optimum use of Polypropylene and Stainless steel, we have crafted and designed a special range of SS/PP turbo ventilators for industrial and commercial ventilation needs to be fulfilled. The high density of Stainless steel (as compared to that of aluminum) makes ventilators strong and durable. It also provides light weight to SS/PP turbo ventilator than aluminum.
This ventilator has less blades but the special designing of blades helps in providing outstanding performance. Also, the design of the ventilator prevent water from coming inside. Additionally its full SS and PP based structure makes it rust free. Its rotation system is based on ball bearing instead on bush system. These balls help in making it smooth, speedy and noiseless.
DUROTUFFTM
Features:
DUROVENT ventilators are made from Polypropylene and Stainless Steel. Stainless Steel being harder material as compared to Aluminum, makes DUROVENT ventilators strong, sturdy and durable
DUROVENT ventilators are lighter in weight as compared to any other ventilator, though SS has higher density than Aluminum. This is because of less numbers of blades, but the unique design of blades increases its overall performance
DUROVENT Ventilators Top Fan Vanes are bi-fold which makes it strong and sturdy
This bi-fold design of DUROVENT Ventilator vanes prevents water to enter inside the shed
There are only 24 vanes compared to traditional Aluminum Ventilator having 36 to 48 vanes. In fact less number of Vanes allows more air to go out making natural ventilation faster.
Rivet and other components of DUROVENT ventilators are of Stainless Steel / PP which are life time rust free
DUROVENT Ventilators runs on ball bearing System and not Pivot (Bush) system making it more smooth, speedy, noise free and long lasting
DUROVENT Turbo ventilators are available with Polycarbonate Base Plate.
Performance of SS-PP Turbo Ventilator
| | | |
| --- | --- | --- |
| Specific | 22" Durovent | Benefits of Durovent |
| Wind Velocity | 08 km/h | |
| Air Absorption | @6.5 km/h | |
| CFM | 1972 | More CFM gives more Ventilation |
| RPM | 540-560 | |
| Material | SS 430 | SS material which is more hard material |
| Rivet | SS 430 | DUROVENT Ventilator's top fan is made of SS hence using rivet and other components of SS making it completely rust free |
| Vanes Thickness | 0.30mm | |
| Top Plate | 0.50mm | |
| Base | PP OF 3.00mm | The Polypropylene base making DUROVENT ventilator more stronger compare to others |
| No of Bearings | 2 Nos | |
| Quality of Bearings | 6201/6202 | |
| Sealed/Not Sealed | Sealed | |
| Lubricated/Self Lubricated | Self | |
| No Of Outer Wings | 24 | Less number of wings allows more air to go out making natural ventilation faster |
| No Of Exhaust Wings | 6 Nos | |
| Design Of Wings | Double Folded | Special double folded design of DUROVENT ventilator's wing prevents water to enter inside the shed |
| Technology | 4.85 Kg | |
Polycarbonate Ventilator Base Plate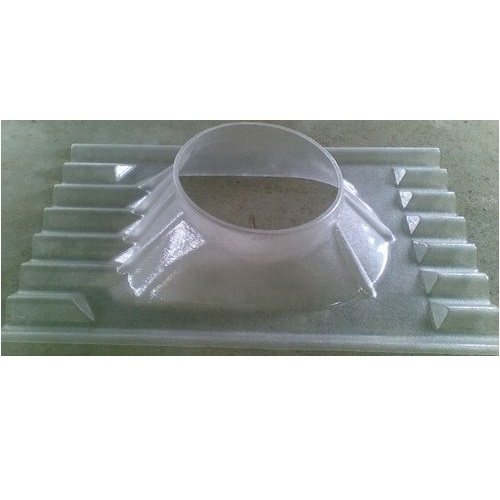 Ask for Price
DUROTUFFTM
Polycarbonate base plates are used to fix Turbo Ventilators on roofs. We can manufacture these base plates in matching to all roofing profiles. We are the manufacturers who can make these base plates in customized profile for our clients. We have in-house mould design and mould making facility. So we have served faster in case of customized requirement. The polycarbonate serves as an excellent replacement for FRP.
DUROTUFFTM
Advantages
It gives more the life than FRP base Plates. We provide 10 years limited warranty.
Virtually Unbreakable and Design Freedom.
UV stabilized & Temperature resistant (-40C to +130 C). Compared to FRP, PC base plates have minimal thermal expansion and contraction, which prevents cracks in long run.
Light Transmission - PC Base plate stable Transmits light up to 85% for long time. FRP transmit up to 60% light, and it will be reduced day by day.
Maintenance free, PC base plate dose not retain Dust it is looking clean and hygienic. FRP has retain Dust and Become dirty after some time.
Our expertise in roofing products enables us to design base plates matching with Metal sheet precision, thus eliminating the possibility of leakage.
Polycarbonate ventilator base plate help in cutting down electricity charges, in today's context, it is a great saving and also contributing towards saving the environment.
DUROTUFFTM
Advantages
Used in factories, warehouses, workshops, Industrial sheds and domestic application.
DUROTUFFTM
Polycarbonate v/s FRP
Polycarbonate sheets are comparatively superior to the entire conventional skylight materials like FRP.
Specifications
| | | |
| --- | --- | --- |
| Property | Polycarbonate | FRP |
| Impact Resistance | Excellent | Good |
| Weather Resistance | Excellent | Poor |
| Temperature Resistance | Up to 120 Deg. C | Below 100 Deg. C |
| Light Transmission | Up to 89% | Up to 60% |
| **Fire Spread | Self Extinguishing | Flammable |
| Thickness | Uniform | Varying |
| Maintenance | Easy | Difficult |
| *TAC Approval (% of Total Roof Area) | 5% | Only 2% |