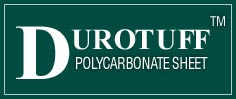 Home
» Onduvilla Roofing Tiles

Print Page

Email Page to a Friend
Most of the products of polycarbonate sheet available in the domestic market under different brands & trade names are duly procured/imported from China.
Green House & Garden House
Commercial, Residential & Other Construction
Industrial Construction
Public Infrastructure
Do-It-Yourself (D.I.Y)

Onduvilla Roofing Tiles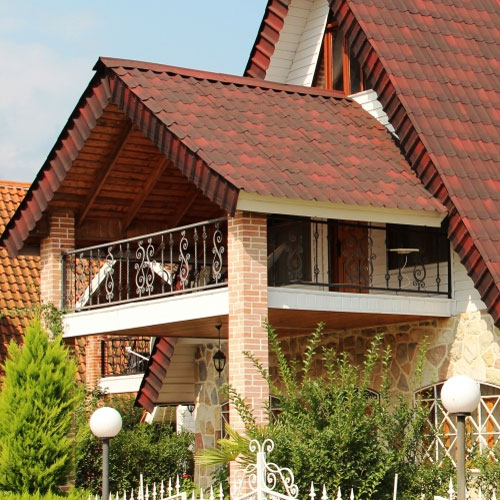 Ask for Price
Owing to the wide experience of this domain, we are instrumental in offering Onduvilla Roofing Tiles. Onduvilla corrugated tiles are designed to give roofs a pleasant look reminiscent of traditional clay tiles, while at the same time being extremely light. Onduvilla tiles have a unique colorings system, wherein each tile is different from others thereby resulting in a natural texture. Available in seven different colors.
Features
Lightweight only 1.3 kg/m2
High wind resistance, upto 347 km/hr
Thermal and acoustic comfort
Flexible and adaptable on all structures
Eco friendly
Contains No Asbestos
Available in a range of environmentally sensitive colour
Specifications
| | |
| --- | --- |
| Length | 1070mm |
| Width | 400mm |
| Thickness | 3mm |
| WAVE HEIGHT | 38mm |
| Width of Corrugation | 97.3mm |
| Surface Area | 0.43 m² |
| Weight/ M² (Shaded) | 3kg |
| Weight/ M² (3d) | 3.2 kg |
Accessories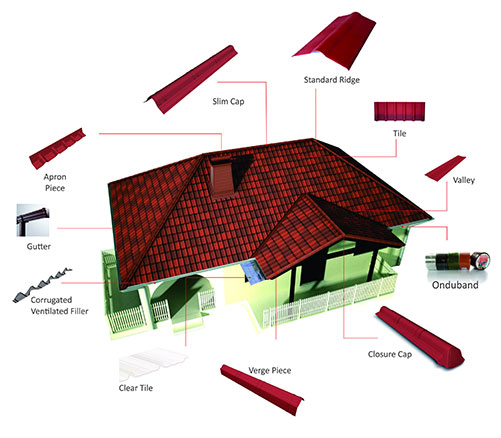 | | | | |
| --- | --- | --- | --- |
| STANDARD RIDGE | | Flexible double wings accomodate a wide range of roof angles. | 1000mm x 420mm |
| SLIM CAP | | Cap for ridge and hips | 1060mm x 175mm |
| CLOSURE CAP | | Designed for the finishing of ridge and hip lines. | 1060mm x 175mm |
| VERGE PIECE | | Designed to provide a neat aesthetics at the edge of the roof. | 1000mm x 405mm |
| VALLEY | | Used to collect rainwater flowing into the valley. | 2000mm x 430mm |
| APRON PIECE | | Designed to provide water tightness and ventilation to the ridge line for roofs with a pitch upto 50°. Can also be used to seal the gap between Onduvilla and vertical wall abutment. | 1020mm x 140mm |
| CLEAR TILE | | Transparent tile designed to bring natural light into the living space. | 496mm x 400mm |
| SPEEDY SCREW | | Self drilling screw for fastening of roof tile to steel/wood. | 65 (+3) mm |
| RAIN WATER GUTTER | | Troughs that collect rain running off a roof and channel it, with proper slopes, to downspouts that carry the rainwater to the ground and away from your siding, windows, doors and foundation. | 3000mmx2700mm |
Applications


> Download Brochure